Ferrite permanent magnets
The ferrite magnets differ from the other magnets used at present by their non-metal character, it is a ceramic material based on iron oxides with a poor electric conductivity. Prior to the rare-earth magnets have been developed, the ferrite magnets had belonged to the most used magnets. Admittedly they are substantially magnetically weaker, their maximum energy product is at the level approx. 35 kJ/m3, but their main advantage is very low price as compared with the NdFeB and SmCo magnets. They are used e.g. in electric machines, magnetic separators and magnetic conveyors where their larger size is accepted. Manufacturing for the automotive industry is controlled according to the standard IATF 16949.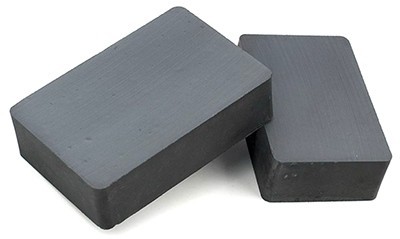 We focus on:
Assistance during development of new applications
Deliveries of magnets for sensors and electric motors
Deliveries of magnets for automotive industry (IATF 16949)
We will be happy to cooperate on deliveries of the magnets for your project, please contact our specialist.