Rotor banding
Increasing the rated speed of electric rotating machines can be considered as the current main trend in their development. This can achieve a decrease in dimensions of these machines and material savings. In case of very frequently used electric motors and generators with installed permanent magnets in rotors, it is necessary to deal with the issue concerning protection of individual rotor components against influence of centrifugal forces, i.e., mostly by means of various types of bandages.
The most frequent method of banding is solved by means of a tape from twisted glass fibres. However, this method of banding is only suitable for low and medium levels of stresses due to centrifugal forces. Bandages based on carbon or Kevlar fibres are intended for the highest levels of stresses due to centrifugal forces.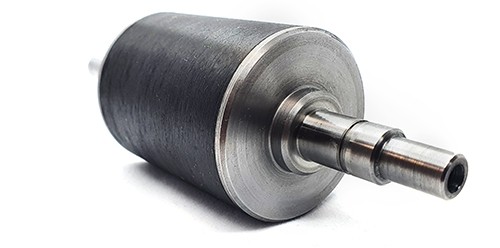 We perform:
Banding of rotors using a suitable bandage (Polyglas, Kevlar, carbon)
Protection of rotors using a protecting sleeve
If you are interested in banding of rotors, please contact our specialist.